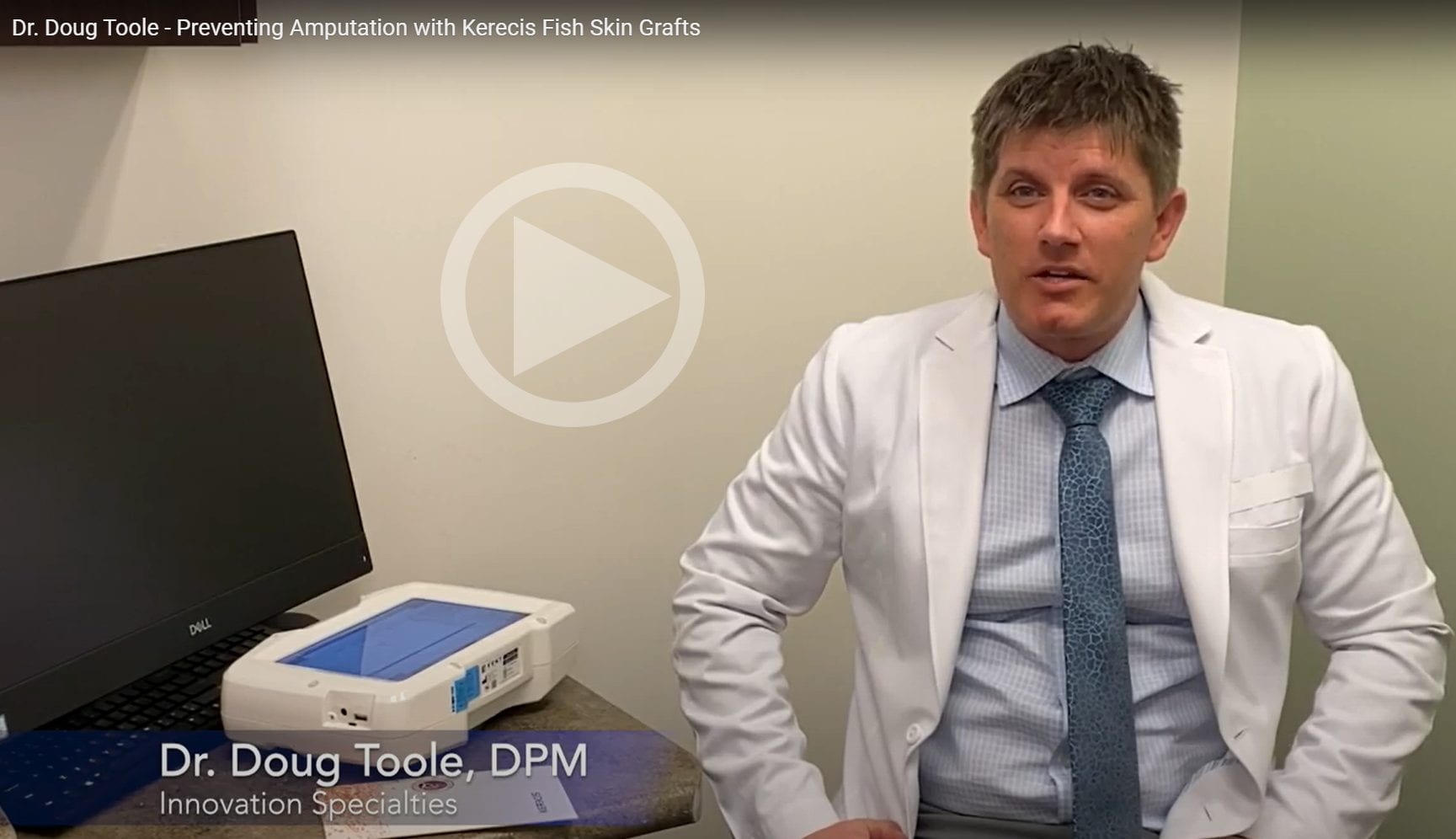 Dr. Doug Toole, co-owner of Innovation Specialties, has demonstrated how Kerecis can be used for complex wounds, reducing the number of amputations and alleviating patient suffering.
In a recent video testimonial shared by Venture Medical, Dr. Toole presents a case of a home-bound patient whose left leg had a large incision that would not heal. She told Dr. Toole that she might have to have her leg amputated above the knee.
"Within a matter of several applications weekly, we were able to get a tremendous healing outcome of one hundred percent healing," he recalls. "She was extremely grateful."
Dr. Toole goes on to explain, "The reason Kerecis works well is due to several factors — the fact that it's a nice, structured, biologic graft; the fact that it has lots of nooks and crannies — it was fenestrated. It allows for an extremely good take of the graft due to the fact that the fibroblasts just get sucked into it."
"It looked very much like human dermis under the microscope, and so the body treated it as such," he adds. "We really got some deep coverage and great granulation tissue, and we were finally able to get complete healing."
About Dr. Toole
Dr. Toole is a Board-certified podiatrist by the American Board of Podiatric Medicine who specializes in more challenging wound and surgical cases. He implements innovative solutions for comprehensive diabetic foot care to prevent amputations.
He attended Ohio College of Podiatric Medicine and completed his Podiatric and Surgical Residency at Intermountain Medical Center in Salt Lake City with an added credential in reconstructive Rearfoot/Ankle Surgery.
About Kerecis® Omega3 OR
Kerecis® Omega3 OR is intact fish skin especially developed to be transplanted into trauma wounds and surgical wounds in the operating room. The fish skin sheets contain fat, protein, elastin, glycans and other natural skin elements. Learn more about this product here.
About Innovation Specialties
Innovation Specialties focuses on geriatrics and podiatry. They provide wound care, vascular issues and neuropathy treatments for patients who are not able or who are unwilling to come into hospital settings. More information about Innovation Specialties is available here.
About Venture Medical
Venture Medical sells Kerecis and other emerging medical technologies in the Northwest United States. They focus on advancing the standard of care through state-of-the-art diagnostics and treatments. Their areas of specialty include biofilm management, wound, urology, pulmonology, burn, plastics, vascular, podiatry and surgery. Visit their web site here.