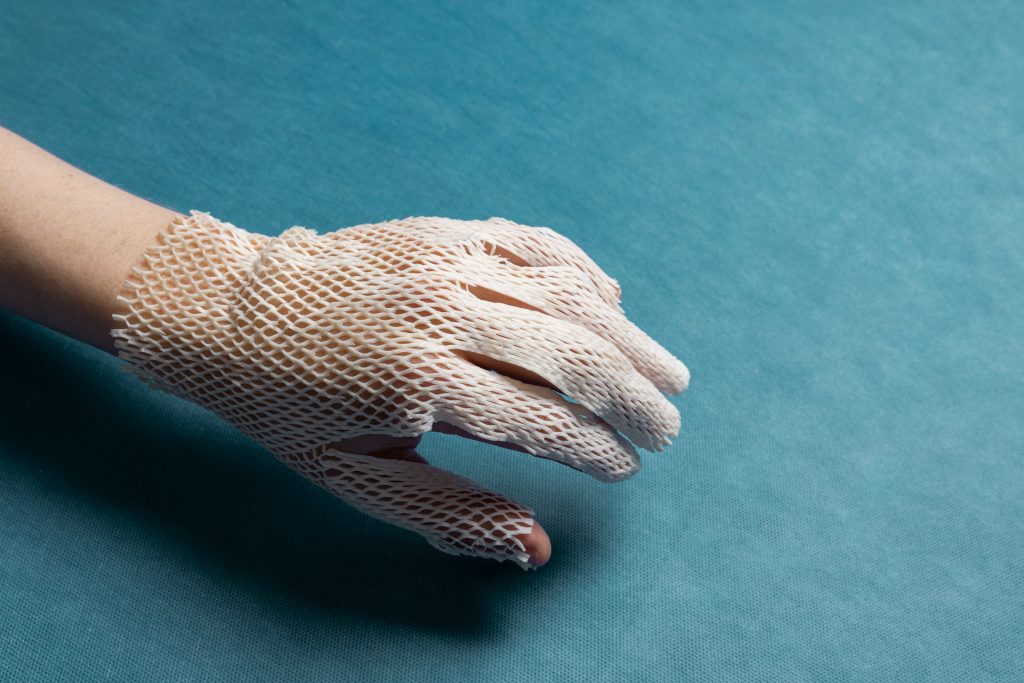 ARLINGTON, Va. & REYKJAVIK, Iceland–(BUSINESS WIRE)–Kerecis, the company pioneering the use of fish skin and fatty acids for tissue regeneration and protection, today announced the release of two new products for the burn market, GraftGuide Mano™ and GraftGuide Micro™.

GraftGuide Mano
The GraftGuide product line is intact fish skin that addresses the challenges of burn healing. GraftGuide Mano is designed to fit the shape of a hand. The product can easily cover the complex 3D structure of the hand, so surgeons do not have to tailor the graft. This reduces the need for multiple grafts and bulky fixation, and minimizes surgical time. Unlike similar burn products, once GraftGuide Mano has been applied, patients can begin physical therapy. This is critical to preventing the loss of range of motion post healing and to speeding up recovery.
"These products respond to demand from healthcare professionals for easy-to-use, tailor-made solutions, which help improve outcomes, streamline workflows and reduce the time spent in the operating room" Fertram Sigurjonsson, Kerecis founder and CEO
"I can attest to the importance of finding effective and efficient treatments for civilian and military burn injuries and later reconstructive surgery," said Lt. Col Steven Jeffery, a burn and plastic surgeon with the Royal Army Medical Corps (RAMC) and a professor at Birmingham City University in the UK. "Treatment of burn wounds is often incredibly painful for burn victims, and most of these procedures are performed in the operating room where time is of the essence. Because GraftGuide Mano conforms so well to the hand, it enables a faster, more accurate application. This can significantly reduce operating time and improve the outcome and experience for both the patient and the healthcare team."
Dr. Jeffery continued: "I have seen firsthand the benefits of using fish skin grafts for burns, and GraftGuide Mano takes it to the next level with its innovative design. I am excited to incorporate it into my practice and see the positive impact it can have on my patients."
GraftGuide Micro
GraftGuide Micro is a fragmented variation of GraftGuide, which allows the intact fish skin to fill large and uneven burn surfaces. With a fragment size of about 1.5 mm, GraftGuide Micro can easily be applied in tight or irregular spaces that are not accessible to meshed or unmeshed sheets. This product retains the 3D structural benefits of a GraftGuide sheet while being easier to apply and better able to cover deep spaces.
"I am always looking for new and innovative ways to repair tissue damage and defects. GraftGuide Micro has exceeded my expectations in terms of its handling properties," said Dr. Jeffery. "The product is easy to work with and can be molded to fit the needs of each patient. I have already seen positive results in my patients who have received the fish skin graft for both blast and burn injuries where uneven surfaces and loss of soft tissues pose a big problem. I am confident that the fish skin graft will continue to prove effective in a wide range of procedures," he added.
The GraftGuide products are regulated as medical devices and consist of a full-thickness fish dermis that has been processed using Kerecis' proprietary EnviroIntact™ method. The use of fish skin as a treatment for burns offers numerous benefits, including its ability to help new cells grow and promote the healing process. The device is appropriate for the management of second-degree burns.
Educational Presentation About Treating Complex Burn Wounds with Fish Skin
Kerecis will be hosting an educational session on fish skin in the treatment of complex burn wounds on January 22, 2023, at the Boswick Burn and Wound Care Symposium in Maui, HI. Dr. Ariel M. Aballay of West Penn Hospital; Dr. Rajiv Sood of Augusta, GA; and Dr. Ram Velamuri of the Firefighters Burn Center will present detailed cases where the various version of GraftGuide have been used to treat complex burns and in reconstructive surgery.